Description
This patented technology has the capability of freeze drying 1.5 to 2.5 gallons (1.5 to 2.5 #10 cans) per batch. In a year's time, you can easily freeze dry 380 gallons of food. All of which will keep nearly 100% of its nutrition.
Features
Easy to use. Just press start and the freeze dryer will beep when finished

Standard 110 Volt

Preserve food for up to 25 years with your own freeze dryer

Perfect for freeze-drying plants, flowers, fruits, vegetables, meats, dairy products, meals, desserts, and more

Designed and made in USA


Specifications
 Model

 Standard

 Electrical requirements

 110V 60Hz 1-Phase

 Fresh food capacity

 7-10 lbs. per batch

 Average yield

 1.5 to 2.5 gallons (1.5 to 2.5 #10 cans) of food per batch

 Trays

 Size: 7.5 x 18 x 0.75" (WxLxH)
 Included with purchase: four
 Total area: 135 x 4 = 540 inch2 (3.75 sq ft)

 Temperature range

 -40°C


 Vacuum level


 3 micron


 Unit dimensions  

 20 x 25 x 30" (WxDxH)


 Unit weight

 105 lbs. (stainless steel model: 125 lbs.)


 Shipping weight and dimensions (with pump)

 175 lbs. / 30 x 38 x 45"

 Download

 User's Manual     Starter Guide


 Warranty

 One year limited warranty

 Certification

 CSA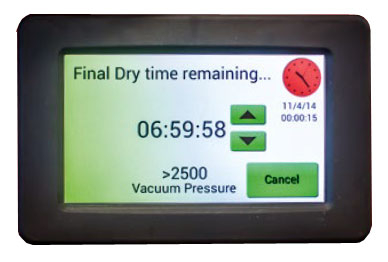 Standard package
 Part description


 Quantity


Part image

 Harvest Right standard freeze dryer - black

1 pc


 Stainless steel tray

4 pcs

 JB DV-6E 6 cfm 25 micron dual-stage vacuum pump

1 pc

 
 Flexible vacuum tubing with 3/4" NPT compression fittings

1 pc

 
 

Insulator door pad

1 pc

 

Standard US 110V plug

1 pc

 User's manual

1 pc

Payment & Security
Your payment information is processed securely. We do not store credit card details nor have access to your credit card information.