Description
Across International DigiM 10L plug and play digital heating and stirring mantle. Comes standard with digital display for accurate control, and large display numbers for easy temperature and rotation speed readings. Two sets of thermocouples allows you to detect heater or material temperatures. Heating jacket is treated before shipment, to prevent release of smoke and odor caused by heat into your working environment.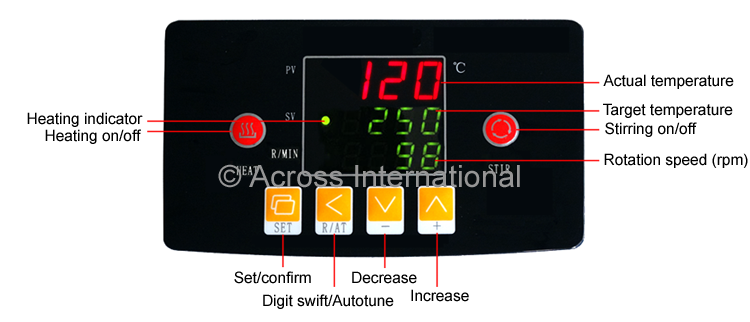 Specifications
 Model

 DigiM10


 Electrical requirements




 110V 60Hz 1-Phase, 2050 watts, 19 A




 Heating




 

Ambient to 300°C


 Stirring

 Maximum speed: 2500 rpm
 Motor power: 40 watts
 Motor type: brushless DC motor


 Controller

 PID control with digital temperature and rotation speed display

 External thermocouple

 Type: PT100
 Cable length: 43 inches
 Stainless steel probe length: 15 inches
 Stainless steel probe diameter: 5 mm


 Flask holder

 Maximum flask capaclity: 5 liters
 Top opening diameter: 11.75 inches
 Depth: 6.5 inches


 Dimensions (WxDxH)

 Unit: 18 x 17.5 x 13 inches, shipping: 22 x 21 x 18 inches


 Weight

 Unit: 30 lbs, shipping: 40 lbs

 Safety

 Thermocouple failure protection

 Warranty

 One year
Standard package
 Part description


 Quantity


Part image

 Ai DigiM 5L digital heating & stirring mantle

1 pc

 

 External temperature probe

1 pc

 

Internal temperature plug

1 pc

 
 Boss head


1 pc

 
 Stainless steel support rod (15 inches)


1 pc

 
 PTFE coated stir bar


1 pc

 
 

5L flask cork ring stand

1 pc

 

4 prong stainless steel clamp opens to 3 1/2"

1 pc

 User's manual

1 pc

Payment & Security
Your payment information is processed securely. We do not store credit card details nor have access to your credit card information.