Description
The new 2016 Ai AirPress 3 x 2″ compact pneumatic heat press features dual built-in digital thermometers and heaters, allowing you to precisely control the temperature of your transfer. The digital timer will automatically begin a countdown as soon as the unit is pressed shut and provides an audible alarm once the predetermined amount of time has elapsed.

Requires an air compressor (not included) to operate.

Features
- Solid aluminum heating platens for easy maintenance and even heating
- Air regulator included for enhanced control
- Digital timer and alarm
- Compact, lightweight, with small footprint
- Dual heating platens for increased temperature stability
- Dual LCD temperature controllers display in Fahrenheit or Celsius
- Heavy duty pneumatic ram for optimal press force
- Adjustable pressure
- Excellent for creating solventless botanical extractions
- One year standard manufacturer's warranty
Recommended parts (not included)

- 1/2" tube compression connection and 12mm tubing
- 33 gallon 1.7 HP oil-free vertical air compressor 165 max psi
- Surge protected outlet

Specifications
 Electrical requirements

 110V 60Hz single phase, 1100 watts 10A

 Heated platen

 Dimensions: 3 x 2 inches
 Number of heated platens: two
 Material: Solid aluminum


 Maximum downward pressure

 4,110 lbs or 685 psi
 (measured with an IEEE 1451.4 compliant, 20,000 lb
 pressure sensor, made and calibrated in USA)

 Temperature controller

 Type: PID controlled digital controller with LCD panel
 Number of controller installed: two
 Display unit: Fahrenheit or Celsius
 Temperature range: ambient to 480°F (250°C)    
 Timer range: 1 to 999 seconds


 Body material

 Powder coated steel

 Safety

 Dual-start button, timer alarm

 Unit weight/shipping weight

 80 Lbs / 100 Lbs

 Unit dimensions (WxDxH)

 10 x 14 x 24.5 inches


 Shipping dimensions (WxDxH)

 17 x 19 x 26 inches

 Recommended heat settings for botanical extractions

 Flowers: 180°F to 230°F
 Concentrates: 150°F to 200°F

 Warranty

 One year

 Download

 Product brochure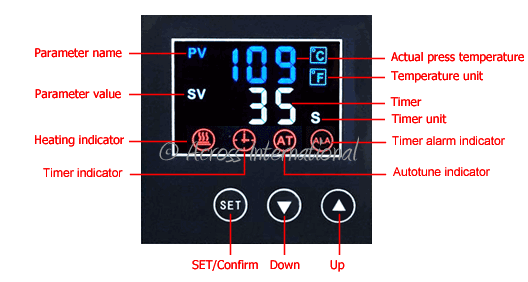 Standard package
 Part description


 Quantity


Part image

 Ai AirPress 3 x 2" pneumatic heat press with dual heating platens

1 pc


 

US 110V 3-prong power cord

1 pc

 User's manual

1 pc

Payment & Security
Your payment information is processed securely. We do not store credit card details nor have access to your credit card information.